New to CPRC - Jasmine A. McDonald
Dr. McDonald's research centers on factors influencing breast cancer risk across the life course.
March 31, 2022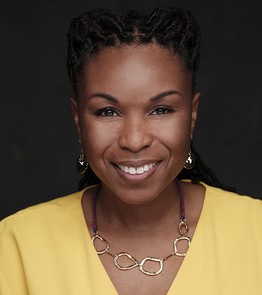 Discipline/Training Background: Doctorate in Biological Sciences in Public Health with a focus on Immunology and Infectious Diseases; Postdoctoral training in Breast Cancer Epidemiology
Department: Epidemiology, Mailman School of Public Health
Started at Columbia: I joined the Mailman School of Public Health in 2011.
What research are you working on currently? 
My research portfolio integrates individual level factors (e.g., health behaviors) and the macroenvironment (e.g., physical, social, microbial environment) with biology (e.g., endocrine disruption, epigenetic modification) to inform how these multiple levels of etiology impact breast cancer risk across the life course. Currently, I am studying the tumor microenvironment of postpartum breast cancer to reveal an intratumoral molecular signature that can be used to reveal targetable biology, improve risk stratification, and improve treatments for young women's BC. I am also examining the role of breastfeeding on the tumor microenvironment. I am also actively engaged with the community from a research and educational perspective on the harmful role of endocrine disruptor chemicals within personal care products.
What motivated you to research in your specialized subject matter?  
I aim to reduce mortality for young women's breast cancer. About half of women who are diagnosed with breast cancer before age 45 years, are diagnosed within 10 years of childbirth. These women, in the midst of child-rearing, experience a breast cancer that is more aggressive and more likely to metastasize. However, this group has been largely ignored – which also means Black women have been largely ignored. Thus, after having my son, my personal risk of breast cancer hit me hard. I want to change the narrative for young black women and mothers.
What are the policies or areas of policies to which your work is relevant?
The Safer Beauty Bill Package, sponsored by Breast Cancer Prevention Partners. The suite of 4 bills will make personal care products safer for everyone by banning the entire class of PFAS chemicals plus 11 of the most toxic chemicals from personal care products sold in the U.S, requiring the disclosure of the ingredients in fragrance in personal care products, create cosmetic safety protections for vulnerable populations, and require upstream suppliers to provide ingredient disclosure and safety data to cosmetic companies.
Main collaborators at Columbia? Elsewhere? 
Examples of Columbia academic collaborators include, but are not limited to, Drs. Lauren Houghton, Adana Llanos, Kevin Gardner, and Mary Beth Terry. International collaborators include investigators within the International Breast Cancer and Nutrition Network.
Don't be shy; what accomplishment are you most proud of and why?
Awarded the 2021 Columbia University Teaching Award; >1,000 nominees
A 2021 Stuart Scott Memorial Fund V Foundation Scholar; grant support to change the course of cancer for underserved population.
Member of the Board of Directors for Breast Cancer Prevention Partners
2021 American Journal of Epidemiology publication on an original idea and rigorous study design (PMCID PMC8096486)
If people want to learn more about your research, where should they start? 
Fun facts about you:
5. Voted Best Dressed in high school & college.
4. Adopted a Hedgehog named Sooji.
3. Gardening is my Zen.
2. Love Babyface.
1. Danced with Prince and the Revolution on stage and got a royal high-five from his majesty!